Milbank Global Project, Energy and Infrastructure Finance partner Allan Marks moderated the panel "Structuring and Financing Options for Water P3s" at the virtual P3 Water Summit on July 9, 2020.
The P3 Water Summit has provided a video of the full panel for viewing on YouTube here.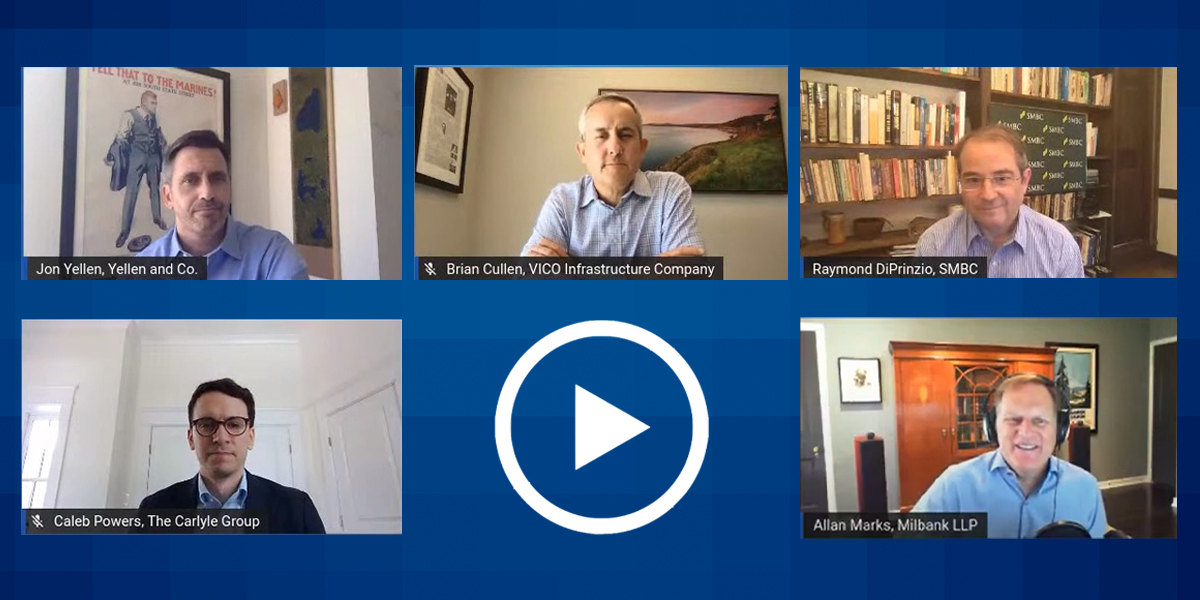 Mr. Marks provided key takeaways from the discussion.
"Public-private partnerships (P3s) and DBFOM concessions are potential solutions to the underfunding of US water infrastructure needs," Mr. Marks observed. "These contracting arrangements may also allow water system improvements to be covered by unlocking value in water streams and ancillary revenue sources." He cautioned, "While long-term demand and cash flows remain stable and predictable, a recession creates immediate stress for municipal budgets and rate affordability. Each project's specific context must be taken into account in matching procurement strategies to bankable investment opportunities."
"Budgetary certainty, accountability and efficiency are some of the advantages of properly structured private concessions for water supply and wastewater treatment projects for municipalities," Mr. Marks noted, continuing, "This is true even when up-front financing costs may be higher than public debt, due to contractual risk transfer and lower life-cycle costs covering both capital expenditures and long-term operations and maintenance."
Mr. Marks was joined by panelists Brian Cullen, President & CEO at VICO Infrastructure Company LLC, Ray DiPrinzio, Co-Head of Infrastructure, North America Global Structured Finance at Sumitomo Mitsui Banking Corporation, Caleb Powers, Vice President, Global Infrastructure at The Carlyle Group, and Jonathan Yellen, Managing Director at Yellen and Co. Mr. Marks and the panelists further explored future market activity, opportunities in water supply and water treatment, privatization of existing water systems, and building portfolios of smaller water projects to improve service and lower costs.
The virtual summit took place from July 8 through July 10, 2020 and explored innovative approaches in project design, build, risk, financing, and operations and maintenance that offer communities new ways to meet complex water, wastewater, and stormwater challenges for critical water projects across the country. At the summit, Mr. Marks and other industry leaders further explored how P3 financing models are evolving, addressing risk transfer and private funding of capital improvement programs to remedy deferred maintenance, alternative financing structures that have been successful in delivering water and water treatment projects, and how a traditional project finance program compares to other P3 tools.
Mr. Marks is one of the world's leading project finance lawyers, with deep expertise across many infrastructure sectors, including water, transportation, airports, rail, port terminals, power and renewable energy, oil and gas, social infrastructure, and telecommunications and digital infrastructure. He routinely represents developers, investors, lenders, and underwriters in the development and financing of complex infrastructure projects worldwide, and has participated in numerous project financings, acquisitions, restructurings, securities offerings and private placements for a variety of sophisticated institutional clients.
He is also the host of the podcast Law, Policy & Markets: Milbank Conversations. Mr. Marks frequently speaks and publishes on renewable energy, public-private partnerships, cross-border financing issues, infrastructure investments, deregulation and emerging markets.